The benefits of home automation technology are virtually endless, and the rapid adoption of smart home system proves that customers are in love!  
From waking up, to cooking, and answering the door, activities at home are so much more fun and convenient with smart home system. Just think of the things we can do today with smart home gadgets
We can monitor home security systems from across town when we're stuck at the office.​
We get push notifications and video when visitors approach our front door, and we can communicate with them without even opening the door.​
We can control lights all around our home with a simple voice command.
But when these smart devices are managed by different apps and are not unified by a powerful smart home system, they can become tedious to manage. And, sometimes, the smart devices that you bought to make your home more convenient turn out to be a little less straightforward than you'd originally thought.
IT'S ALL JUST SMART STUFF WITHOUT A SMART HOME SYSTEM
Take Smart Lighting, for example. If your phone isn't handy and your kids are screaming too loudly for Alexa, it's nice to know you can count on your old-fashioned light switch. But you know that switching those lights on will disrupt the smart connection between your lights and mobile phone and mess up your default settings.

Don't get me wrong! Most smart home system is worth the hassle, but once you have a half dozen kinds of devices in your home, troubleshooting issues and getting multiple devices from different brands to work together can become a part-time job. You end up telling yourself, "There's got to be a better way!"
USING A SMART HOME SYSTEM TAKES YOUR HOME TO THE NEXT LEVEL
A smart home operating system, like Control4 Smart Home OS 3, is designed to unify hundreds of connected devices across the home and control them all from a single platform that gives homeowners the control and personalization you want while also offering concierge-style professional support when needed. Phew! I know— there was a lot of information in that one sentence, but in a nutshell, that's what a comprehensive smart home OS does. So let's break it down, point by point.
A smart home system unifies every device in your home
A smart home OS creates a truly intelligent home by supporting and controlling products across all categories of electronics, appliances, and systems in your home (or at least most of them). For example, the Control4 product line includes
a video door station
universal remotes
multi-room music and video

All of these devices are then unified and orchestrated by the Control4 Smart Home OS—and it's not just for Control4 products. A great smart home system  embraces choice because every home is a mix of products from a variety of companies.
That's why the Control4 Smart Home OS is compatible with over 13,500 third-party products like smart sprinkler systems, pool controls, smart locks, and more.
Control4 Smart OS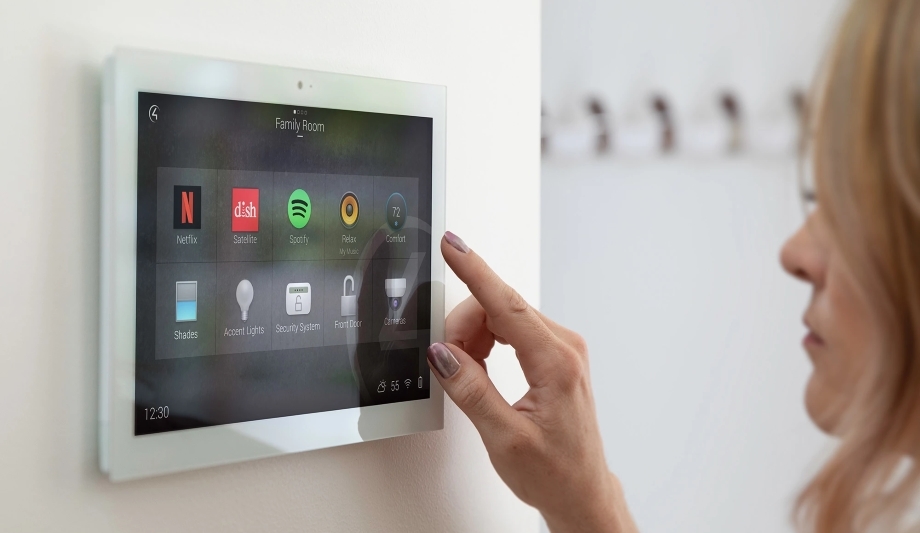 A great smart home OS  embraces choice, because every home is a mix of products from a variety of companies.
Let's say most nights, you and your family sit down for dinner. You tap "Dinner Time" on your Control4 keypad in the kitchen, and
the window shades roll down,
the upstairs bedroom lights flash twice to let your family know dinner is ready,
your favorite playlist comes on,
and your smart pet-feeder gives the family dog his dinner so he's not begging under the table for scraps.
Then imagine that after dinner, you move to the living room, fall asleep on the couch, and forget to lock up.
Well, you don't have to worry, because at precisely 10 p.m., your front and back doors lock, the security system arms, the downstairs lights dim, and all the entertainment in the house turns off.
Oh, and if it happens to be a Wednesday, your outdoor sprinklers turn on and water your lawn. All this is possible, without the headaches, thanks to a powerful Control4 smart home OS.
A smart home system is simple and personalized
A powerful smart home system is designed so you can personalize your experience and elevate what's most important to you, so that the controls you use most are front and center. 
Control Smart Home OS 3 gives you control over how your interface is organized. Intuitively designed, the Control4 Smart Home OS lets you favorite rooms and scenes, and arrange devices as you like, so that you can quickly access the controls and features that are most important to you.

For example, a Master Bedroom dashboard might typically have a Wake Up scene that opens the window shades and plays your favorite music at a specific time every morning.
But it could also show controls and at-a-glance statuses for your home security system and door locks so that you can make sure your home is secure from the comfort of your bed. It's little things like this that make having a customized smart home so meaningful. 


Here are a few other meaningful interactions that a comprehensive smart home OS can give you:
Your kids walk home from school while you're still at work. When they get home, you get a notification, and you can view them on your security camera using your smartphone. The front door automatically locks behind them.
You're leaving on an extended vacation, but there have been burglaries reported in your neighborhood. You can set the lights, speakers, and TVs in your home to mimic your usual routines, making your home appear occupied—all the while getting notifications if movement is detected by your motion detectors or security cameras.